Senior Pastor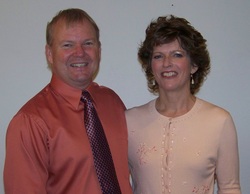 Wade Duroe was born and raised in Southwestern Minnesota. He's from the small town of Jeffers, where he graduated from Storden-Jeffers High School in 1977. He went on to Northwestern College in St. Paul, MN, graduating in 1981. Then it was out west, to Colorado, where he attended Denver Seminary, graduating in 1984.

Wade served as a youth pastor in the Storden Baptist Church, Storden, MN (summers 1979 and 1982), at Grace Presyterian Church in Littleton, CO (1981-1984) and at the First Baptist Church of Worthington, MN (1984-1986)

He had the joy of serving in the ministry with the First Baptist Church of Detroit Lakes, MN (1986-1994) and Hillcrest Baptist Church of Muscatine, IA (1994-2005).

In the summer of 1981, he toured Scotland with the Carpenter's Workshop Drama Troup, assisting in the Luis Palau Evangelistic Crusade in Glasgow. In the summer of 2003, he and his family traveled to Ireland where he filled the pulpit for two weeks in the Baptist Church of Carrickmacross, Ireland.

The Lord brought Lori Hibma and Wade together in 1984 and they were married in 1985. Lori is from Harris, IA. She graduated from Harris-Lake Park High School in 1981 and attended college at Norhwestern of Orange City, IA, St. Catherines, in St. Paul, MN and the university of Kansas in Lawrence, Kansas. They have two grown sons, Jordan and Cameron.

Their ministry together with the believers of Crossroads Church began in Chippewa Falls January 1, 2006. Together it is their prayer to grow as a family of believers, making disciples of Jesus Christ who are equipped to honor God, love each other and impact their community with the good news of Jesus Christ.
---
Youth Pastor

​Brian Johnston was born and raised in and around Wisconsin. He graduated from Blair-Taylor High School in 1995. It was during high school that Brian first felt the call to youth ministry, but God took him the long way. After settling in the Eau Claire area in 2000, he became involved at Calvary Baptist Church, serving in various positions there. He worked in the nursery, served as church custodian, deacon, and on the building committee when the church was working to build a new facility.
He also organized the men's and co-ed softball teams, served on the mission team (including a stint as leader of the team), and served on the men's ministry team. But the constant was the youth group. Brian served as volunteer leader for both the middle school and high school youth groups for many years. His passion for the youth led him to seek opportunities to serve them in as many ways as possible. It was truly an answer to prayer for him to be called to Crossroads.
​
Karen was born in southwest MN and moved to Augusta, WI with her family when she was 11. She met Brian in 1994, at youth group. Karen also graduated in 1995, from Augusta High School, and went on to graduate from Moody Bible Institute in Chicago, IL in 2000. Karen and Brian married in 2001, and Karen has served at Calvary Baptist Church in many areas as well, mostly with the young children. She has served on the mission team, and been involved in many Bible studies and the women's ministry.
​
Together, Brian and Karen are excited to serve at Crossroads Church. They look forward to building relationships with the youth, but also the other members of this family.
​
Elder Board

Dwight Pearson
Joel Stokka
Gary Steward
Mike Glomski
​Pete Lust
Deaconess Board
Roxi Janecke
Lisa Smith
Mary Crumbaker
​Karen Tschida
Lois Elliot
Karen Johnston
Chris Sonnentag
​Beth Stokka
Trustee Board

Steve Parent
Matt Tinberg
John Tschida
Dave Wilson
Mark Smith
Dean Wojtczak
Building Maintenance
Bob Fanning
Nominating Committee
Sandy Pearson
Chris Shaske
​Dean Wojtczak

Secretary
Lori Duroe
Treasurer
Chris Sonnentag