CROSSROADS QUILTER'S CLUB



On the 3rd Thursday of each month from 9 am to 3 pm at the church, some of the 'coolest' people you will ever meet get together for quilting. Actually, when I say quilting, that is only a small part of the group. Some of the ladies quilt, some of them knit, some of them crochet, some of them make jewelry, and some of them come to just visit and catch up on the news. It really doesn't matter what sort of craft that you do, as long as you have fun with it.

Each month, we take turns bringing some of the best homemade soups and desserts this side of the Mississippi. Our sweet little Lulu is kind enough to supply us with her delicious homemade breads to go with our soups.

We have tons of fun and would love to see our group grow. Please plan on stopping by soon to see if it's something you might enjoy.

We look forward to seeing you……..



Ladies Block Sharing Quilt from 2010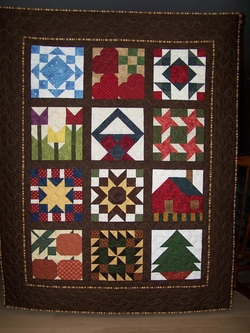 In 2010, the gals each made 12 blocks and swapped with the others ending up with a block from each of the participants. This is one of our finished quilts made into a 59x63 lap quilt.
---